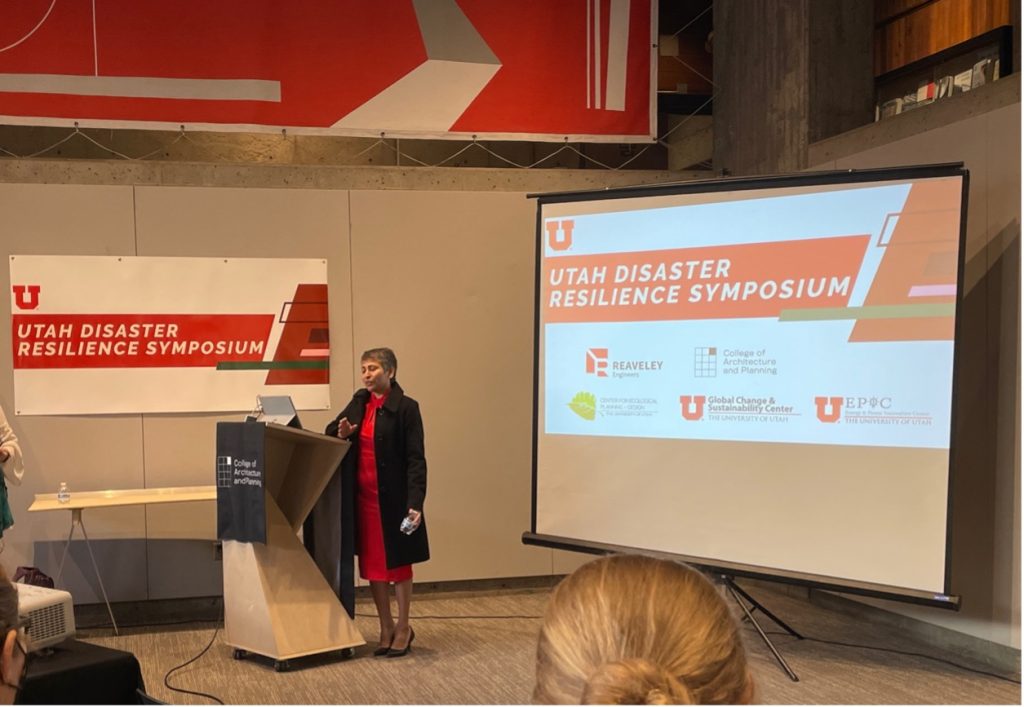 This story originally appeared on U-EPIC website.
The 2022 Utah Disaster Resilience Symposium was held on November 10th at the Bailey Gallery of the College of Architecture and Planning Building at the University of Utah, organized by Dr. Divya Chandrasekhar, an Associate Professor in the Department of City & Metropolitan Planning and Associate Director of the Utah Energy and Power Innovation Center (EPIC). The symposium was co-sponsored by the Reaveley Engineers, Global Change and Sustainability Center (GCSC), Center for Ecological Planning and Design (CEPD), College of Architecture and Planning, and EPIC.
The symposium featured a keynote lecture by Dr. Lucy Arendt, Professor of Business Administration at St. Nobert College, Secretary Treasurer of EERI, and the Chair of the federal Advisory Committee on Earthquake Hazard Reduction (ACEHR).
Dr. Arendt delivered a lecture on Community Recovery & Resilience: Challenges & Lessons. Dr. Arendt highlighted the social, economic, and community aspects of disaster recovery and resilience, quoting Benjamin Franklin on fire-threat prevention in Philadelphia "An ounce of prevention is worth a pound of cure."
The symposium continued with a networking and poster session, where attendees had the opportunity to explore different aspects of resilience and interact with a wide range of multidisciplinary academics and industry peers.